Star ratings
Choose your accommodation with confidence, as all the establishments listed here are regulated by Law. Most have a Star Rating awarded annually against the quality standards used throughout Great Britain. These standards can be viewed at: qualityintourism.com quality-schemes.
Here's a rough guide to the experience you could reasonably expect:
1 star - Simple, clean, comfortable – but no frills
2 star - Well presented and well run
3 star - Good levels of quality and comfort
4 star - Excellent standards in all areas
5 star - Exceptional throughout
Other accommodation can be found on the islands, for example in private dwellings. These are not quality assured, but must possess a valid accommodation permit to operate within the law. Prospective guests should always check prior to booking to be sure any specific requirements can be met.
Accolades
Hosts who consistently deliver quality, service and hospitality above and beyond the requirements of their star rating may be rewarded with a GOLD or SILVER accolade. Current holders are listed at the start of each section.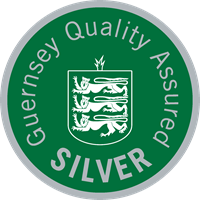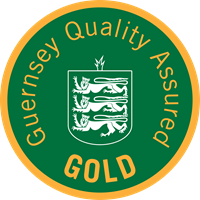 Guernsey Taste & Breakfast awards
These showcase the delivery of a memorable eating experience.











Welcome awards
Distinctive recognition for hosts committed to catering for the particular needs of specific customer groups, including Anglers, Cyclists, Families, those travelling with Pets, and Walkers. The green facilities symbols listed for each site may help with your accommodation choices.